Empowering people with disabilities since 1977
The Center for Independent Living Options, Inc. (CILO) is a 501(c)3 non-profit organization that provides services for people with physical, sensory, cognitive, and/or psychological disabilities in Greater Cincinnati and Northern Kentucky. CILO was founded in 1977 by people with disabilities who desired a support system to help people with permanent disabilities reach their greatest potential and independence.
CILO is governed, managed and staffed by a majority of professionals with disabilities who have an insight into the issues experienced by people with disabilities. Through the five core services of an independent living center along with other programs, we empower people with disabilities to live productive, rewarding lives with pride and dignity. 
A Center for Independent Living (CIL) is a consumer controlled, community-based, cross-disability, nonresidential private nonprofit agency that is designed and operated within a local community by individuals with disabilities.
Our Mission
CILO empowers people with disabilities to lead independent and inclusive lives in the community.
Our Values
Compassion
Empowerment
Financial Sustainability
Inclusion
Independent Living Philosophy
Innovation 
Our Vision
CILO is a recognized leader of quality and innovative services that promote independent living for people with disabilities.
What is an Independent Living Center?
A Center for Independent Living (CIL) is a community-based, cross-disability, non-profit organization that is designed and operated by people with disabilities. CILs are unique in that they operate according to a strict philosophy of consumer control, wherein people with all types of disabilities directly govern and staff the organization. Centers for Independent Living were created by U.S. Congress in Title VII of the Rehabilitation Act of 1973; today there are more than 400 CILS throughout the U.S., funded with both public and private resources.
More About Independent Living
Am I eligible for CILO Services?
People with permanent physical, cognitive, sensory or psychological disabilities that substantially limit one or more major life activities (for example caring for one's self, walking, seeing, hearing, speaking, breathing, working, performing manual tasks, or learning) are eligible for CILO's core services based on self-identification of their disability. Some ancillary services may require additional documentation related to a person's disability.
More About CILO Services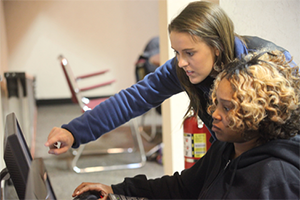 Read our Latest Newsletter Online
CILO is funded in part by:
U.S. Department of Health and Human Services – Administration for Community Living
U.S. Department of Housing and Urban Development
Opportunities for Ohioans with Disabilities
Kentucky Housing Corporation